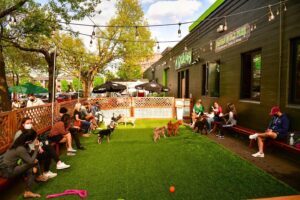 Over the years, Hokusei has had a long relationship with Cycle Dog, a Portland-based manufacturer of dog supplies (leashes, collars, toys, etc.) made from recycled materials.  Cycle Dog was started by Lanette Fidrych, a fitness buff and dog lover who originally got the idea for her company when she realized how many old/used bicycle inner tubes were turned into landfill.
It had been a while since Hokusei worked on a project with Cycle Dog, but we now have a joint initiative in the works (more on that at a future date). So it was great to check in with Lanette and learn how her business is doing (quite well, apparently).
One big development since our last project with Cycle Dog was its opening of a tavern.  Although it serves beer, wine, cider and food like any other drinking establishment, Cycle Dog's tavern is far from ordinary. In line with Cycle Dog's product line, the bar is dog-centric, and has a specially-designed dog run area where (human) customers can watch their pets play unleashed with other dogs.
Cycle Dog's tavern is a great concept and quite rare — we look forward to sharing more about the tavern with our partners, customers, and friends in Japan.
For more on Cycle Dog, please go to:  https://cycledog.com/