During the summer, in conjunction with its partner Oregon Fruit Products (Salem, Ore.), Hokusei North America sent a shipment of fruit puree to Japan  As these shelf-stable aseptic purees are highly valued by the craft brewing industry to make fruited beers, every customer of this last shipment was a Japanese craft beer brewery.
One of those breweries is Uchu Brewing, one of Japan's most successful players in the growing Japanese craft beer market, offering some of Japan's most sought-after lineup of beers.  Recently on social media, Uchu Brewing shared that it was using the puree to make a sour ale, a relatively new product for the company.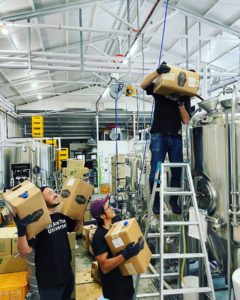 We couldn't be more proud that Oregon Fruit Products' puree is being used by such a highly-acclaimed brewery — we just wish we could go to Japan to try the finished product for ourselves!