Given our growing relationship with Oregon Fruit Products (OFP), and ongoing exports to Japan of OFP's fruit purees for brewing, Hokusei North America is continuously looking for opportunities in the alcoholic beverage market.
One growth area in the United States that it generating great excitement and having a huge impact on the marketplace is the hard seltzer category.  A relatively new beverage category, hard seltzer is as the name implies, alcoholic seltzer.  Typically, alcohol made from can sugar is added to carbonated water, and fruit flavoring is also commonly added.  Like beer, hard seltzer is about 5% alcohol, but manufacturers tout the fact that hard seltzer is far lower in calories than beer, and unlike beer, is gluten-free.  Market share for this category tripled between 2018 and 2019, and is expected to easily triple again by 2023.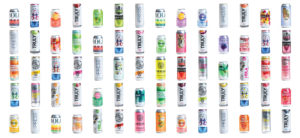 There are two major hard seltzer players in the U.S. market:  White Claw and Truly.  However, recognizing market trends, a large number of beer breweries and cider makers are also now making hard seltzer, including many such companies in Oregon.
Although hard seltzers have yet to make inroads into Japan, given Japanese consumers' fondness for American trends, it would be no surprise if the beverage catches on.  Hokusei will be monitoring the situation closely, with the aim of helping any hard seltzer-related trade between Oregon and Japan.