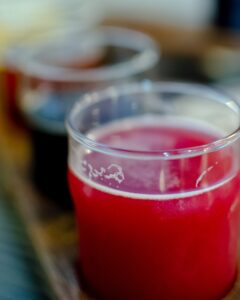 Recently, Oregon Fruit Products, a Hokusei North America partner company, announced its release of a new dragon fruit aseptic puree for fermentation.  Because of its natural mild sweetness and light fruitiness, dragon fruit puree can be used to balance the use of other fruits that have relatively sweet or acidic flavor profiles.  And, because the dragon fruit puree offers up an amazing magenta color, that can result in tantalizing pink and purplish beers. It is expected that dragon fruit puree will be used for a number of beer styles, including lagers, hefeweizens, wheat beers, and fruited sours.
And, as Chris Hodge, Director of Sales for Fermentation says, "Who doesn't love putting the word 'dragon' on their label?"
Hokusei North America plans to send samples of dragon fruit puree to beer industry clients in Japan, to gauge market interest in this fascinating new product.