As reported in our previous post, along with Oregon Fruit Products and its parent company (Hokusei Products), Hokusei North America hosted a webinar on February 2, with a focus on US beer market trends.  In particular, the webinar explained how many breweries are increasingly making non-beer products, including "4th category" drinks (e.g., RTD cocktails, hard selzters, hard iced teas) and non-alcoholic drinks (e.g., non-alcoholic craft beer, hop water).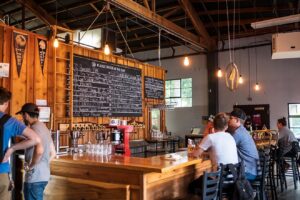 The webinar was lead off by Hokusei North America's CEO, Shotaro Tomita, followed by a message from Axel Bamburgh of the U.S. Department of Agriculture's Osaka office.  The webinar then proceeded to explain US "4th category" and non-alcoholic drink trends, as well as how fruit flavors and purees play a role in such beverages.
The webinar then turned to interview Daniel Hughes of Portland's Culmination Brewing, who explained his brewery's recent foray into the hard seltzer market.  Daniel also answered a number of questions asked by the webinar audience, largely consisting of brewers in Japan. Many of the Japanese brewers' questions focused on the process and techniques involved in making hop water.
As part of its efforts to share US food & beverage trends with Japanese customers and busienss partners, Hokusei North America plans to continue offering a number of webinars — please check back with our web site for announcements about future events.