After a much subdued Christmas season in 2020, Christmas-related activities in Portland are mostly back this year.  Here are some of the Christmas-related event and sights in our town that we recommend to visitors and local residents alike:
The Pioneer Square Christmas Tree (it's huge!)
Brewlights:  An adult-only event to enjoy the thousands and thousands of lights at the Oregon Zoo
The Christmas Ship Parade
There are much more events in Portland this month — for a full list, please visit Travel Portland's web site.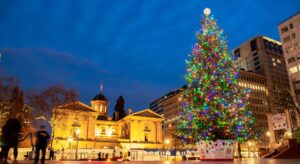 Although Christmas events are back on this year, please keep in mind that indoor mask mandates still apply across the State of Oregon.
Happy Holidays from the Hokusei North America team!