Reflecting its growing relationship with Oregon Fruit Products, Hokusei North America recently sent another major shipment of fruit puree to Japan.  As was the case in September, this puree is destined for use by Japanese craft beer brewers, to be used to make fruited beers.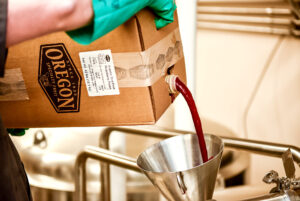 Over the last few years, fruited beers (beer using some kind of fruit as an ingredient), have become increasingly popular, and around found within different beer categories, such as sour beers, "smoothie" beers, darker beers (think stouts and porters), and even india pale ales.  Especially for novice beer drinkers or consumers who do not enjoy the flavor of commonly-sold "macro" beers, fruited beers are often an enjoyable introduction to the world of craft beer.  And, this phenomenon is not limited to the United States — the same trend is currently taking place in Japan.
As a result, Japanese brewers' demand for purees to make fruited beers has risen dramatically, as reflected by the increasing quantity and frequency of Hokusei's puree exports.  Similarly to September, one of the most popular puree flavors sent as part this month's shipment is blackberry, a fruit that is quite rare in Japan.
For more information about Oregon Fruit Products' purees for fermentation, please visit https://www.oregonfruit.com/fermentation/