As 2022 closes out, and the Hokusei North America team gets ready for holidays, we'd like to take a moment to reflect on the past year, and express our thanks to all those with whom we had the pleasure of working.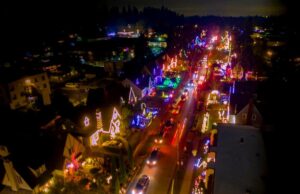 2022 felt very much like a post-COVID transition year, which started with online seminars and finished with in-person meetings & visits.  During this time, we continued to enjoy and strengthen our business relationships with the Portland Japanese Garden and Oregon Fruit Products.  2022 marked the first time that we attended a food industry conference, as a new market for products we trade.
And, on both sides of the Pacific, we were honored to have distinguished visitors.  Here in Oregon, Hokusei Products President Shotaro Tomita visited us for the first time in about three years.  In Japan, our head office welcomed Oregon Governor Brown and Consul General Richard Mei.
As we look to 2023, we are excited for how our business will develop, and for the new relationships we hope to forge. But for now, it's time to relax, spend time with friends and family.  We wish you & yours the very best of Holiday Seasons, and look forward to being in touch in the New Year!