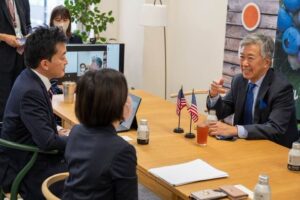 As reported in our last post, Consul General Mei from the U.S. Consulate in Osaka paid a visit to Hokusei Products' headquarters in Takaoka, Toyama, Japan on November 28.
Consul General Mei's visit went extremely well, and he was very eager to learn about Hokusei's global business operations and focus on imports of U.S. products into Japan.
After hearing about Hokusei's import approach, the Consul General was kind enough to offer advice about accessing networks of Americans living in Japan, and Americans with previous experience living in Japan. Consul General Mei also pledged to look for ways that the U.S. government could support Hokusei in its future efforts to market imports.
Hokusei Products staff in the meeting and Hokusei North America staff attending via videoconference were very appreciative of Consul General Mei's time spent at our office in Takaoka, and look forward to either hosting him again, or meeting with him in Osaka soon.