On November 2 & 3, Hokusei Japan participated in a "Portland Day" event that took place in Tokyo's trendy Jiyugaoka neighborhood.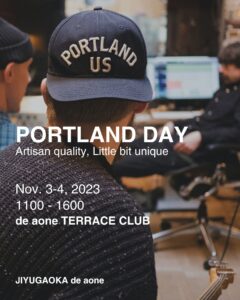 The 2-day event was sponsored by Travel Portland, and was blessed with fantastic weather. The event's program featured a rich combination of a on-site pop-up marketplace, a DIY/crafting session, and presentations about Portland by craftspersons, food & beverage industry professionals, urban planners, and entertainment experts.
At the Portland Day event's pop-up marketplace, Hokusei Japan had a booth selling products from Portland Gear, Portland's highly-popular apparel company.  Hokusei also shared the new 1.5L fruit puree pouches manufactured by Oregon Fruit Products.
For more information about Portland Day (in Japanese): https://portlandday.peatix.com/?fbclid=IwAR0gneGud3XLIVrNmRkp7bFld4MDSD_t0kInU-1Vh7nLKnSjsKWdfMWlJtU
For more information about Portland Gear: https://portlandgear.com/
For more information about about Oregon Fruit Products: https://www.oregonfruit.com/