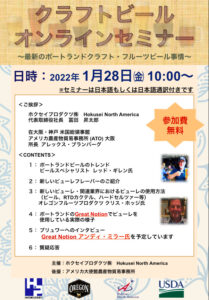 As part of its marketing efforts to promote sales of Oregon Fruit Products' fruit purees in Japan,  Hokusei North America and its parent company in Japan (Hokusei Products) will host a webinar on January 27 (Pacific Time), to showcase purees use in craft beer.
The hourlong, on-line event is expected to be attended by over 50 Japanese brewers, and will feature a number of segments:
Greetings from Hokusei's President, Shotaro Tomita
A message from Alex Bramberg at the U.S. Agricultural Trade Office (ATO) in Osaka
An overview of the latest craft beer trends in Portland, Oregon
Announcements about new purees flavors to be exported by Hokusei
Description of the purees and how they're used by Chris Hodge from Oregon Fruit Product
A puree dosing instructional video
An interview with Andy Miller, Head Brewer at Great Notion Brewing
Q&A
There'll be a lot to cover, we're excited to present to the brewers!