As mentioned in a recent article, the Hokusei Team in Japan hosted a booth at the Hop Education and Sensory Sesssion held in Tokyo on April 14.  At the booth, the Hokusei team promoted Oregon Fruit Products' fruit purees, and was very fortunate to have Chris Hodge from Oregon Fruit products also attending the booth.  Chris' help was instrumental in explaining purees to brewers participating in the hop event.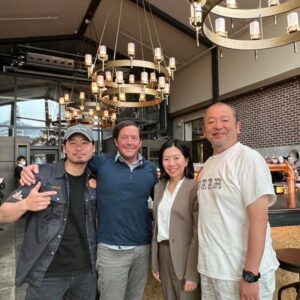 The following week, Hokusei was again very fortunate to have time with Chris, and took him to visit various customers in the Tokyo area:
Spring Valley Beer
Harlow Ice Cream
Y.Y.G Factory
Beer Brain Brewery
Sakaduki Brewing
Coedo Brewery
TY Harbor
As was the case at the hop event the preceding week, Chris' input and information sharing was extremely appreciated by brewers and the Hokusei team.  We look forward to welcoming him back to Japan again some time in the near future!