On April 14, Hokusei Products had a booth at the Oregon Hop Education & Sensory Session, held at the Shibuya Stream building in Tokyo, Japan.
Although the main focus of the session was on hops, Hokusei and a number of other companies in the beer ingredient and supply industries were in attendance, taking the opportunity to exchange information with the 100 Japanese brewers in attendance.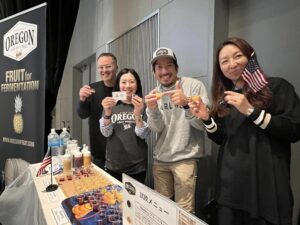 The Hokusei booth was manned by both Hokusei's Japan- and U.S.-side staff, and were busily answering brewers' questions about Oregon Fruit Products' purees, as well as giving out samples of a number of purees for brewers to taste.  Oregon Fruit Puree "swag" given out by the Hokusei staff was also a hit with the brewers in attendance.
Thanks to the success of this event and brewers' interest, Hokusei hopes to significantly expand the number of breweries using Oregon Fruit Products' purees in Japan.