Earlier this summer, Oregon Fruit Products announced the launch of a new puree packaging format, 1.5 liter pouches.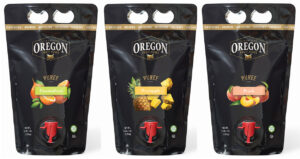 These pouches we designed for clients that do not have the need to purchase standard-sized 42 lb. cartons of a puree at a time, or simply do not have the space for larger packaging, such as many food & beverage establishments in Japan.
In addition to offering a small size format, these new pouches contain the same 100% fruit purees as in standard packages, plus a spout for easy pouring, handles for easy carrying, and waterproof material.  The pouches currently come in eight flavors, creating flavor versatility for commercial clients.
Hokusei will be studying this innovative packaging for use in Japan, as it appears to hold great potential.