This, month, Portland's renowned Japanese Garden celebrated its 60th anniversary.
Founded in 1963, less than 20 years after the end of World War II, the garden was established to strengthen ties between Portland and Japan.  Built on the former site of the Portland Zoo, the 12 acre garden has become one of Portland's most popular tourist destinations.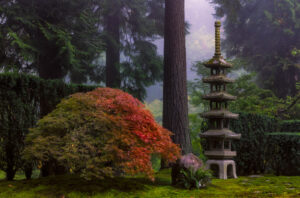 Over the decades, the garden's management has strived to keep the garden as authentic as possible, leading a former Japanese ambassador to the U.S. to declare it most beautiful and authentic Japanese garden outside of Japan.
To celebrate its 60 years, the Portland Japanese Garden held a number of events, including origami classes, tea ceremonies, and live music performances.
Hokusei would like to extend a warm congratulations to the Portland Japanese Garden organization for all the wonderful work it has done to promote Portland-Japan relations.