Hokusei Products in Japan has partnered with Portland Gear to offer the apparel maker's products at the "Sustainable City Portland Week" event to be held at the Tokyu Plaza near Shibuya Station in Tokyo, from July 18 – 26.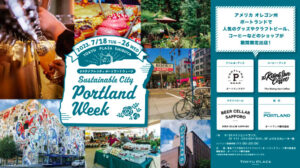 Hokusei Products' relationship with Portland Gear goes back to 2017, when Hokusei first imported Portland Gear's products for a Portland-related festival that took place in Osaka that year. After a break marked by the coronavirus epidemic, the two companies are excited to work together again, and strengthen the bond between Japan and Portland via the re-introduction of Portland Gear's stylish caps, t-shirts, and bags.
At the Tokyu Plaza event, Hokusei Product and Portland Gear will be joined by other companies and organizations, including Travel Portland, Beer Cellar Sapporo (an Oregon beer retailer), and Rising Sun Coffee, which was inspired by the founder's time in Portland.
For more information about the event, please go to (in Japanese): https://prtimes.jp/main/html/rd/p/000000036.000025107.html
For more information about Portland Gear, please go to:  https://portlandgear.com/