As reported in a previous post, the "Fuji to Hood" festival, which focused on beers made in collaboration between Oregon and Japanese brewers, took place on Saturday, July 16.
Despite some last minute changes, the festival was a great success.  The 1,000 allotted tickets were sold out before the event, which unfortunately meant that many hopeful attendees had to be turned away.
As the festival features 20 different kinds of beer, cider, and spirits, festival-goers had plenty of choices. Some of the more popular beers included an IPA that used Japanese "kuromoji" wood, a cream ale that used Japanese roasted green tea, and a "smoothie" beer that used plum and Japanese sudachi citrus fruit.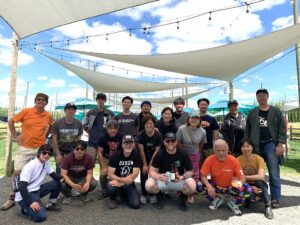 In addition to beer, the festival also offered the festival audience with Japanese drum (taiko) and calligraphy performances.
Fortunately, representatives from 14 of the participating Japanese breweries and cideries were able to attend Fuji to Hood in person. To thank them for making the long trip to Portland, the festival organizers held a welcome party and also hosted the Japanese on a field trip to a hop farm, outdoor beer garden, and winery.
Fuji to Hood is planned to next be held in 2024. In the meantime, the "Hood to Fuji" event will be held in Japan in 2023. For more on Fuji to Hood, please go to: www.fujitohood.com