On Friday, May 27 (Japan time), Hokusei North America will host a webinar for members of the craft beer industry in Japan. In partnership with Oregon Fruit Products, the webinar will focus on how fruit purees are used in the very popular IPA style of craft beer.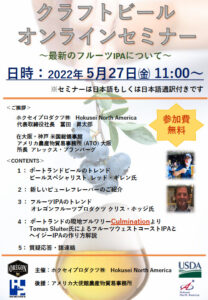 Following an opening greeting by Hokusei's CEO Shotaro Tomita, the webinar will share the latest beer trends in Oregon, and examples of popular IPA-style beers that are fruited.  Afterward, as a guest speaker, Tomas Sluiter of Culmination Brewing will share key "pointers" about how to actually brew IPAs with fruit and fruit purees.
Given Japanese brewers' interest in IPAs and fruit use, this webinar will be highly-informative, and there will be opportunities for attendees to ask questions during the online session.
This event is open to any member of the Japanese brewing industry.  To sign-up or make inquiries, please send an email to Yurie Wata (wata@w-hokusei.co.jp).