In cooperation with the US Governments Agricultural Trade Office (ATO) in Osaka, Japan, Hokusei will be attending the FABEX food show to be held in Osaka in September 2022.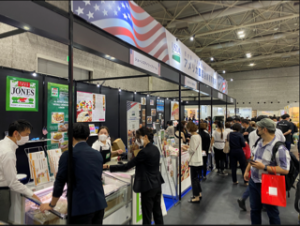 The FABEX show focuses on food, beverages, dessert sweets, and baked goods, and pre-COVID had attendance of over 40,000 visitors.  It is considered to be the largest food show in Western Japan.
At FABEX, Hokusei's Japan-side team will have a booth in the America Pavilion sponsored by the Osaka ATO.  Other organizations promoting US-made food products will be in the same pavilion.  Hokusei's booth will feature purees made by Oregon Fruit Products, including purees for the drink, dessert sweets, and baked goods markets.  Hokusei staff will be present to answer visitors' questions about the purees, and to hand out samples.
For more information about FABEX, please go to:  https://kansai.fabex.jp/en/