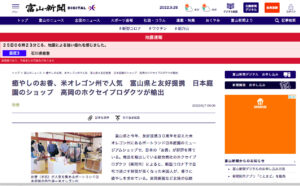 Earlier this month, Hokusei's business in Oregon was featured in the Toyama Shimbun, a major newspaper in Japan's Toyama Prefecture, Oregon's sister state.
In particular, the newspaper article focused on Hokusei's work with the Portland Japanese Garden, to procure and supply the garden's gift shop with traditional products and articles made in Japan. Specific products mentioned include incense, wind chimes, and metalware.
The article also quoted Shotaro Tomita, Hokusei's president, who stated,
In addition to exchanges between governments, we would like to leverage the power of the private sector to spread Japanese culture to Oregon and the rest of the world.
Click here to read the article (in Japanese): https://www.hokkoku.co.jp/articles/-/845743
[Reference] Portland Japanese Guarden Gift shop