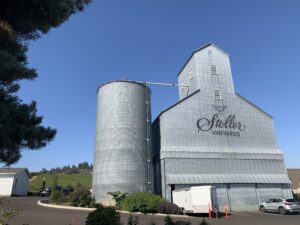 In late-September, Hokusei North America's CEO, Shotaro Tomita returned to Oregon after a 3-year lapse caused by the COVID pandemic.
During roughly a week in Oregon, Mr. Tomita was able to visit a number of Oregon-based businesses, organizations, and educational institutions, as well as meet with a number of local business people and residents.
One of the highlights was visiting Stoller Family Estate, a winery in Dayton, a small town in Oregon's Willamette Valley region. While visiting Stoller, Mr. Tomita was given a tour of the production and packaging facility, as well as of the winery's beautiful grounds and tasting room.  Meeting with Stoller staff, Mr. Tomita spoke about the opportunity to import the winery's products in Japan.
Here's hoping we'll be able to drink Stoller's wine in Japan soon!
For more information about Stoller Family Estate:  https://www.stollerfamilyestate.com/