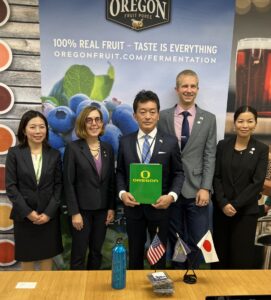 In commemoration of the 30th anniversary of the Oregon, USA – Toyama, Japan sister state relationship, a delegation headed by Oregon Governor Kate Brown visited Hokusei's home office in Takaoka City, Japan on October 24.
After arriving in Takaoka, Governor Brown was greeted by Hokusei staff, including CEO Shotaro Tomita. During the meeting with the Oregon delegation, Tomita-san explained Hokusei's various business lines, its focus on sustainable business goals (SDGs) and its efforts to build ties between Oregon and Japan.
Governor Brown was especially interested to learn about Hokusei's exports of Oregon-made fruit purees to Japan, and its imports of Japanese artisanal products for the Portland Japanese Garden. She also inquired about Hokusei's focus on aluminum recycling and the hiring of a diverse workforce.
Speaking of Hokusei, Governor Brown said that,
We're very, very pleased to have their business in Oregon. We think it's beneficial for the company, and we think it's beneficial for the State of Oregon.
It was a honor to have Governor Brown visit our home offices, and we wish her a pleasant, productive stay during the rest of her trip in Japan.
To see a video of Governor Brown's visit, please go to:  https://www3.nhk.or.jp/lnews/toyama/20221024/3060011698.html
[Reference]