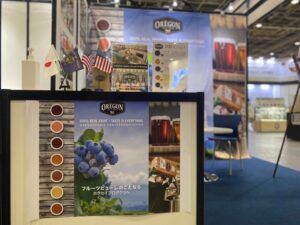 Today, September 7, was the start of the FABEX food show, an industry event held in Osaka, focusing on food, beverages, dessert sweets, and baked goods.
In response to an invitation from the US Governments Agricultural Trade Office (ATO) in Osaka, Japan, Hokusei's parent company in Japan has a booth at FABEX, to promote Oregon Fruit Products' (OFP) fruit purees.
At the booth, Hokusei staff are offering show attendees samples of 5 different flavors of OFP's purees. In addition, Hokusei worked with one of its customers, Tomomasu Beverages, to create soft drinks using OFP's purees, to be sampled by FABEX visitors.
On the first day of the event, response to Hokusei's booth and OFP's purees were extremely positive, and Hokusei staff had quite a bit of interaction with conference-goers. Most visitors to the booth had never heard of Oregon Fruit Products, or even of fruit purees for commercial use, which ideally will translate into new Japanese customers for Hokusei and Oregon Fruit Products.
For more information about FABEX, please go to:  https://kansai.fabex.jp/en/
For more information about Tomomasu Beverages, please go to:  https://www.tomomasu.co.jp/