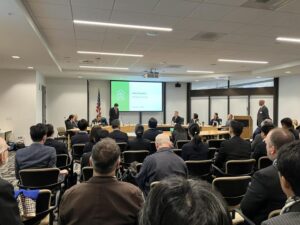 Earlier this month, a delegation from the city of Kobe, Japan made a visit to the Portland area.  Lead by Kobe City Mayor Hisamoto Kizo, the visit was organized with the cooperation of Prosper Portland, the city's economic development agency.
The purpose of the delegation's visit was multifold, and included the signing of a renewed MOU (memorandum of understanding) for economic and city planning cooperation, a Kobe culinary event, and visits to numerous sites, businesses and organizations in Portland.  Hokusei North America staff attended one of the visits, the McMenamins Kennedy School, a former elementary school converted into a restaurant, bar, hotel, and theater complex.
The delegation's visit also benefitted from meeting with, and cooperation from the Japan-America Society of Oregon, and the Kobe International Club PDX, a grassroots organization promoting ties between Kobe and Portland.
Officially, Kobe's sister city in the USA is Seattle, but thanks to the many folks who organized the delegation's visit, its ties with Oregon are growing ever stronger.